Facing Science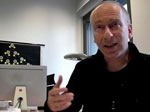 In occasion of the launch of the facing science project Berlin based scientists contextualize networks in their own discipline. The interview partners were Remigius Bunia, Martin Grötschel, Jens Krause, Reinhard Kurth, Christoph Markschies, Günter Stock & Joseph Vogl (video excerpts, 2010, German).
---
What could be imaging today - imachination interview series
About 30 interviews are published online in the reactive zone. The discussions with experts from the humanities and the sciences, which are involved somehow in the imachinative process, represent a wide variety of ideas about the concept of image and imachination (German or English transcription, 2004-2006).
Interview partners with Tim Otto Roth in the reactive zone:
Jean Baudrillard, Ludger Brümmer, Thomas G. Dietterich, Erwin Flückiger, Andreas Glindemann, David Jensen, Robert Hopkins, Barbara Könches, Ekkehart Krippendorff, Jens Kube, Harald Lesch, Dominic M McIver Lopes, Christa Maar, Helga de la Motte-Haber, Frieder Nake, Jennifer Neville, C. David Page, Lutz Priese, Klaus Rehkämper, Andreas Schelske, Eva Schürmann, Peter Sloterdijk, Woody Vasulka, Peter Weibel, Joseph Weizenbaum, Michael Werman, Lambert Wiesing, Reinhard Wilhelm & Beat Wyss.
---
Bibliotheca Alexandrina
Two interviews from 2005 with two protagonists in the recent history of the New Library of Alexandria: Prof. Mustafa al Abbadi, the grand seigneur of the Library, had in 1972 the initial idea of reviving the old libary of Alexandria and functioned then as its crucial promoter. Laila Abdel Hady was involved since 1993 in the early phase of the institutional concretion of the Library of Alexandria (video excerpts, 2005, English).
---
Published interviews in the printed press
2017
Roth, Tim Otto: The Art of Disappearance, in: Jean Baudrillard – The Disappearance of Culture, uncollected interviews edited by Richard G. Smith, David B. Clarke(Edinburgh University Press) 2017.
7 April 2017
Wenn sich Kunst in die Lüfte schwingt, interview with Tomás Saraceno in occasion of his solo exhibtion Aerosolar Journeys at Wilhelm-Hack-Museum Ludwigshafen, Offenburger Tageblatt
2013
Bild und Anblick. Versuch über atmosphärisches Sehen, in: Solterdijk, Peter: Ausgewählte Übertreibungen - Gespräche und Interviews 1993-2012, Berlin (Suhrkamp) 2013, pp. 238 ff.


2004
"Fotografie als Zuflucht"- photography as resort from theory, interview with Jean Baudrillard in German and English translation in the summer edition of EIKON Heft 45/46, Vienna 2004.

29/30 March 2003 "Die Malerei wird nie überwunden", interview with the director of the Fondation Beyeler Christoph Vitali, Offenburger Tageblatt
29 January March 2000 Denken ist zweckfrei, interview with the philosopher Ute Guzzoni, Badische Zeitung, p. 8.
11 January 1999 "Wir sind doch alle Sklaven von Microsoft", interview with the ZKM director Peter Weibel, Saarbrücker Zeitung, p. 18.
9 December 1998 Leichen für die Zuschauer aus dem Jenseits, Interview with the pilosopher Boris Groys, Badische Zeitung, p. 11.


Die Kunst hat in diesem Jahrhundert die Unendlichkeit für sich entdeckt. Die Unendlichkeit liegt darin, daß man die Zerstörung der Kunst selbst als Kunst versteht. Die Zerstörung des Bildes als Kunstakt. Und daß die Rezeption von Kunst selbst zur künstlerischen Tat wird. Die Kunst hat also Mechanismen entwickelt, wie früher die Religion oder Philosophie, um ihre eigene Verneinung noch einmal als Kunst zu definieren.